…to sponsor a one-day mini competition
In the quest to see the Edo State Boxing world revived and have boxers keyed into opened opportunities in the boxing world, former world champion, Albert Eromosele has donated boxing equipment worth millions of naira to the Edo State Sports Commission.
The former International Boxing Association (IBA), International Boxing Organization (IBO) and International Boxing Federation (IBF) intercontinental middleweight world champion said he donated out of the pain he was feeling for the young boxers in the state.
While addressing the officials of the sports commission, the boxers, their coaches and the journalists present, the Florida Boxing Hall of Famer said it is personal conviction without expecting any favour or reward in return, to give back to the neglected boxers who are struggling to cope with the pace of the sports as a result of lack of resources and competition.
"I would want the government of the day to help the boxers, especially on technical grounds. In those days, we used to have coaches in all local government to train boxers, I feel we should work on something like that."
"I don't want anything in return, not a position or whatever because I'm doing good in my business and I see no reason to look for any position but remembering my humble days of beginning, I feel these guys should also make it if I can make it."
"Let's rally around to help these guys. Whatever the commission can do to help organize even mini tournaments to keep them fit and in shape, this will be good. I'm ready to spend my money. I just want to help them because I know it's really difficult – Edo State can go back to the old times and make sports work."
The Permanent Secretary, Edo State Sports Commission, Mrs Sabina Amiemenoghena Chikere while receiving the equipment thanked the donor and used the opportunity to reiterate the government's stand on sports development in the state.
"I want to thank the donor, Mr Eromosele who has come back to give to society; we want to appreciate you, all that you are and the boxing family for deeming it fit to do this."


"We would sustain what you have started and we will work on all you have said here today. Let me however notify you that the Edo State government has taken sports to be one of its core objectives and has done so much to return the state to where we should belong."


"The government alone can't do all these and we equally need support from the private sector. We want to use this as a point of call to invite others to equally come to do as you have done."
"Once again, we want to appreciate you and let you know that this you have given to us will be utilized judiciously and we promise that you will see the positive side of this at the next coming national sports festival."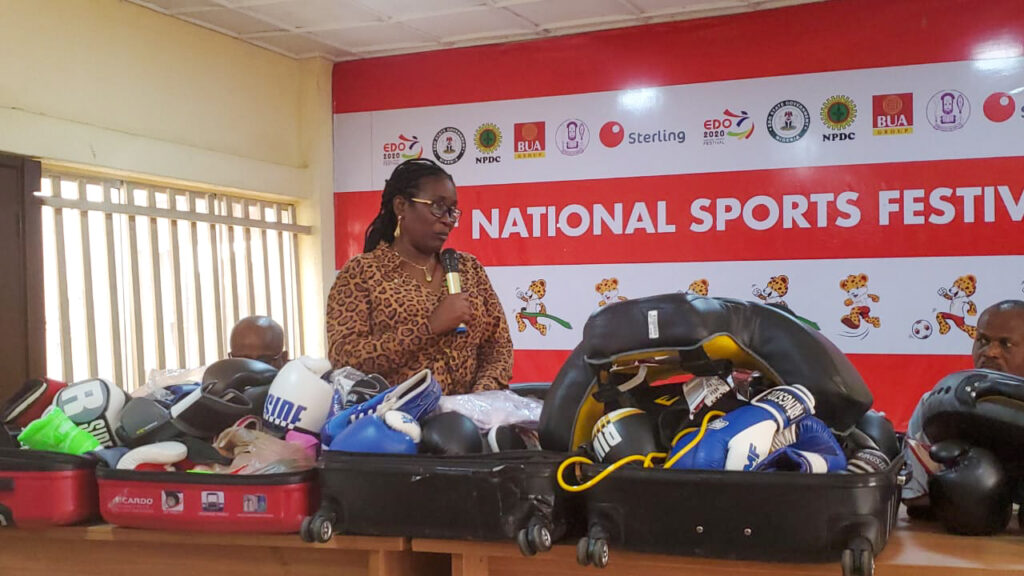 "We will continue to do our best to return sports to their rightful position in the state."
Adding his thoughts, the Executive Director of Sports Development and Operations, Dr Emmanuel Igbinosa thanked the donors and urged him to further reach out to his contemporaries to also come back home and contribute to the development of sports at home as only the government cannot do it alone.
"Thank you for all you have done and that you will still do; we appreciate the fact that you deem it fitting to come to do things for your source."
"The government alone cannot do it, we can only put in place necessary and conducive environments for people like you to key into supporting what you have. The government is repositioning things gradually and I believe with time, we will achieve our objectives."
Amongst the equipment donated by the President of ex-Nigeria boxers include 16 pairs of boxing gloves, 4 pairs of head guards, 6 pairs of boxing boots, 4 skipping ropes, 1 body guide, 1 pad, 20 bandages, 4 boxing trunks, 1 boxing ring gown and others
Meanwhile, there will be a day mini tournament for boxers in Edo State at the Samuel Ogbemudia Stadium boxing hall which will be sponsored by the Miami boxing hall of Famer, Albert Eromosele.
The program which held at the Media Centre, Samuel Ogbemudi Stadium as anchored by ace sports journalist, Wole Opatola had in attendance, Dr. Kweku Tandoh, Dr of Facilities, Mr. Victor Edokpai, Director of Sports Technical, Mr Igbinosa Charity, former Secretary and Edo State Boxing Association, Elder Emmanuel Ajibola.
Others are Edo Boxing Secretary, Andrew Unujagar, Edo Boxing head coach, Lucky Oshanugor