Nigeria Premier Football League side, Kano Pillars finds itself in troubled waters as it has been slapped with a player registration ban by the league organizer, platinumnewsng.com is reporting.

This decision stems from the club's failure to settle outstanding wages owed to their former goalkeeper, Bassey Akpan.

In a written communication signed by the NPFL Head of Administration, Stanley Ike-Richard, and released to sports journalists, the league authorities unequivocally stated that Kano Pillars cannot engage in signing or registering new players for the upcoming 2023/24 NPFL season until the club clears the outstanding debt amounting to eleven million, eight hundred thousand naira.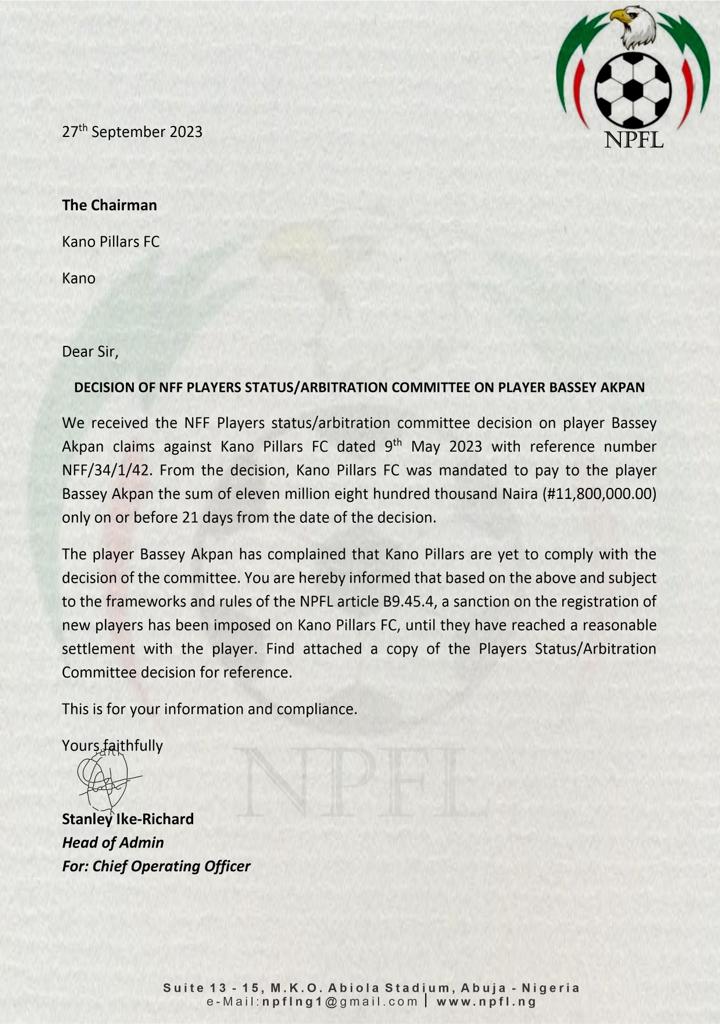 This development follows the Nigeria Football Federation's (NFF) directive, issued via the Players' Status/Arbitration Committee, with a letter signed by the Committee's Secretary, Joshua Onoja, Esq. The NFF had ordered Kano Pillars to remit the owed sum of ₦11.8 million to their former goalkeeper, Bassey Akpan, within 21 days of receipt in June 2023. Regrettably, the club has yet to comply with this directive.

The 2023/24 NPFL season is set to commence this weekend, with Kano Pillars scheduled to face Sunshine Stars on the road as they return to the Top Flight league. However, their inability to register new players may pose a significant challenge as they embark on their campaign.

*Kano Pillars now faces a race against time to rectify this financial issue and ensure that they can actively participate in the upcoming NPFL season. The unresolved situation has cast a shadow over the club's preparations and has left fans anxious about their prospects in the league.*