The second matchday of the Benin City Youth League brought forth a captivating array of matches, and shocking results as it showcased the immense talent and passion of the young footballers participating for glory.


Let's delve into the thrilling encounters that took place:


Gabson FC 4-1 Rolly FC
⚽ Victor Samuel 20′, 50′, Sunday Nwakwo 75′, Harrison Mmesoma 83′ –


In an impressive display of attacking prowess, Gabson emerged victorious over Rolly with a convincing 4-1 scoreline. Victor Samuel was the star of the match, netting two goals in the 20th and 50th minutes. Sunday Nwakwo added to the tally with a goal in the 75th minute, and Harrison Mmesoma sealed the victory with a strike in the 83rd minute. Rolly managed to pull one back, but it proved insufficient to turn the tide.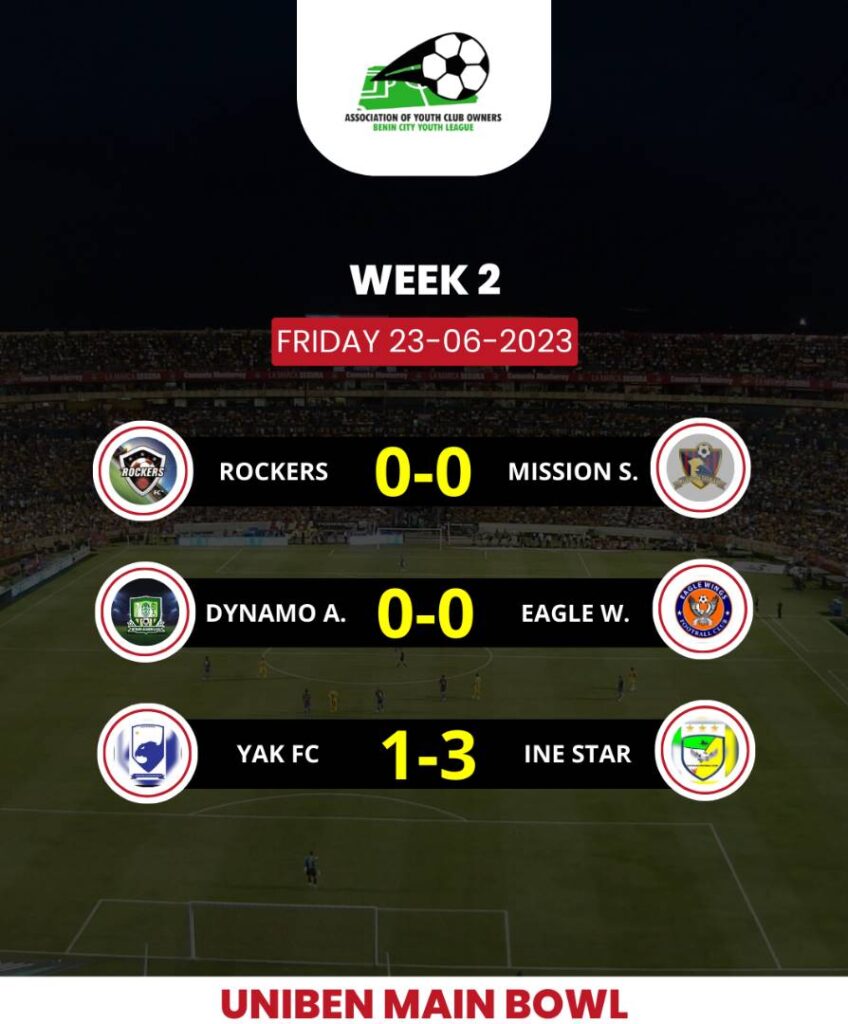 BJ FC 1-2 Genesis
⚽ Purpose Ayemogie 57′ – Ehimien Paul 25′, Okpor Goodluck 67′

A tightly contested affair unfolded between defending champions, BJ FC and Genesis, with the latter eventually prevailing with a 2-1 victory. Ehimien Paul opened the scoring for Genesis in the 25th minute, showcasing his precision in front of goal. Purpose Ayemogie equalized for BJ FC in the 57th minute, injecting excitement into the match. However, Okpor Goodluck of Genesis found the back of the net in the 67th minute, securing the triumph for his team.


Eminence 0 – 0 Royal Force

In a battle of resilience and stout defences, Eminence and Royal Force settled for a goalless draw. Both teams exhibited commendable defensive discipline, thwarting their opponents' attempts to break the deadlock. Although the match did not witness any goals, it was a testament to the team's determination and organization at the back.


Shooting Arrow 2-2 Worshippers
⚽ 11′,89′ – Henry Donatus 45′, Omage Joshua

Shooting Arrow and Worshippers provided spectators with a pulsating encounter that ended in a 2-2 draw. The action-packed clash saw goals at both ends, with Shooting Arrow's finding the back of the net twice in the 11th and 89th minute. However, Worshippers' Henry Donatus displayed his scoring prowess, slotting home a goal in the 45th minute, followed by Omage Joshua's equalizer. The match showcased the attacking flair and resilience of both teams.


Rockers 0-0 Mission Side

Rockers and Mission Side engaged in a closely fought contest that resulted in a goalless stalemate. Despite the absence of goals, the match was characterized by intense battles in midfield and determined defensive displays from both sides. Each team fought hard to create scoring opportunities but ultimately couldn't find the breakthrough.


Dynamo Academica 0-0 Eagle Wings

In a tightly contested affair, Dynamo Academica and Eagle Wings ended their match without finding the back of the net. The game featured moments of skill and tactical battles, but both teams remained resolute in defence, denying any scoring opportunities. It was a fiercely competitive encounter that ended in a hard-fought draw.


Yak Sports 1-3 Ine Stars
⚽ Akpe Victory 12′ – Irero Abel 13′, Obazee Odion 41′, Anyawu Chibueze 72′

In a match filled with excitement and goal-scoring prowess, Ine Stars emerged victorious with a 3-1 win over Yak Sports. Akpe Victory of Yak Sports showcased his talent by scoring in the 12th minute. However, Ine Stars quickly responded with goals from Irero Abel (13th minute), Obazee Odion (41st minute), and Anyawu Chibueze (72nd minute). Ine Stars' clinical finishing proved to be the difference, securing them a well-deserved victory.
The Benin City Youth League continues to provide a platform for young talents to showcase their skills and passion for the beautiful game as action continues on Tuesdays at the University of Benin Sports Complex.