…Chief instructor promises improved performance from Nigerian Referees.
As the Nigeria Football Federation (NFF) intensifies plans to kick off the new season of football in the country, all stakeholders continue to prepare The Referees are not left out in this very training towards having all-around improvement and advancement in the football leagues in the country.
The University of Benin Faculty of Law played host to the Nigeria Football Federation on Thursday as they organised their annual Seminar for Nigeria National League (NNL) Assessors.
The seminar normally begins a week-long programme for NNL, NWFL, NLO and other lower league referees. Active referees during the programme, involve physical fitness tests before going to class for their seminar. The seminar for the assessors kicked off on Wednesday with arrival and registration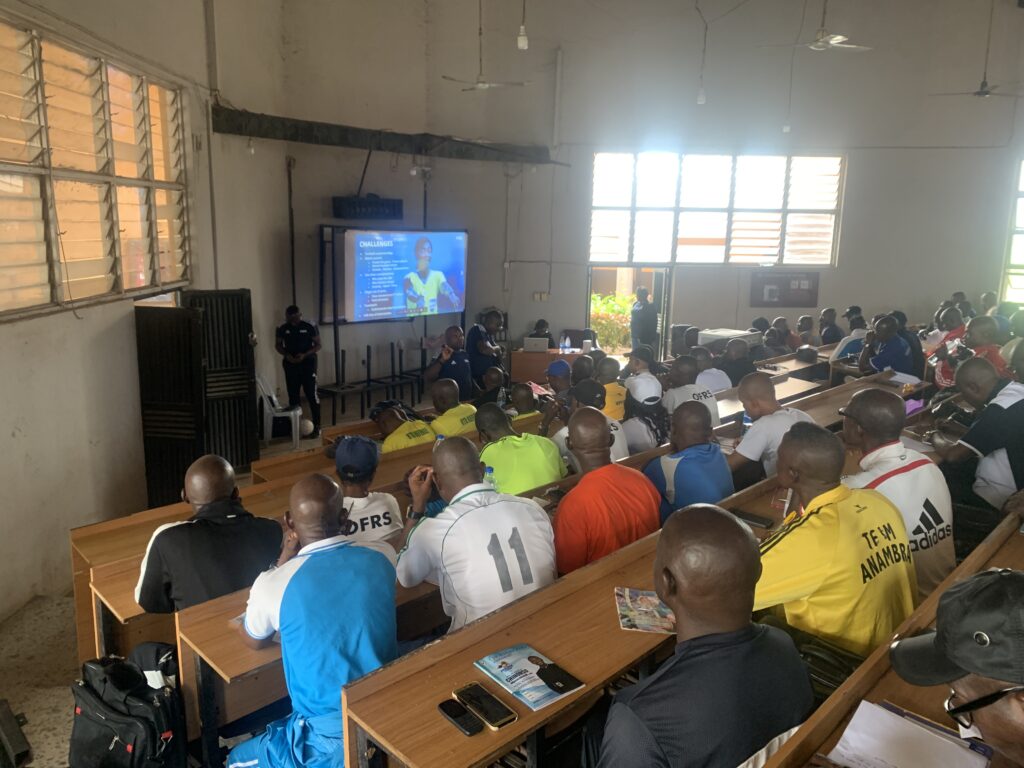 Thursday witnessed the seminar proper with 168 referee assessors registering for the programme as of press time. The 168 participants are from all the southern states in the country and Kwara state.
Mr. Chukwudi Calistus Chukwujekwu, head of the panel of technical instructors of the Nigeria (football) Referee Association (NRA), addressed the press at the end of one of the sessions. According to him, he is very impressed with the turnout of the participants for the seminar. He cited the reason for the massive turnout, stating the fact that the NFF no longer use retired referees as match commissioners in the league, with a good number of former match commissioners who are retired referees commissioners have been enlisted as referee assessors, they were present for the seminar.
He defined a match assessor as a former referee who is very knowledgeable about the happenings on the field of play, one who provides information about referees when on the field of play.
Chukwujekwu stated that the NRA expects quality reports from the assessors after every match, and the report is to guide the authorities to design training programmes that would help correct any deficient area noticed in the report.
The retired CAF/ FIFA referee announced the introduction of Flash report for referee assessors. This report helps give an overview of how a football game went, immediately after the game.
He commented on the reason why Nigerian referees do not exactly dwell on the national stage(CAF and FIFA competitions). He mentioned that performance is one of the reasons why. He highlighted that it is the job of selecting the best referees in the country for matches that Mrs Faith Irabor is currently saddled with.
"A lot of factors come into the selection of referees in Nigeria. But how do we select? That is what I think the new committee headed by Mrs Faith Irabor is trying to correct because hitherto it had been a political thing. Politicians were heading the committee. It has been a case of, I want this man in, what are the yardsticks? why do you want him? It doesn't matter, I just want him in."
"With what she has put in place so far and with what we are expected to put in place, we will see to a very reasonable extent that competent hands are picked from all over Nigeria, wherever the person is."