…as Edo Government trains, equips domestic security operatives
As part of measures to strengthen its security architecture, Edo State Government has perfected plans to train personnel of domestic security outfits in the State.
The State Deputy Governor, Rt. Hon. Comrade Philip Shaibu, disclosed this in Auchi, the administrative headquarters of Etsako West Local Government Area of Edo State.
Shaibu, who graced the 2nd Security Summit of Amalgamated Afenmai Forum, witnessed the official launch and unveiling of the Oduma Protection Squad (OPS), which was held at the Main Auditorium, Auchi Polytechnic.
He noted that the State Government was always fine-tuning the workability and effectiveness of its security architecture to ward off attacks and ensure the protection of the lives and property of law-abiding citizens.
According to Shaibu, the need to have all security outfits in the State under one umbrella was to ward off any further unrest in the security sector.
"Security has become an issue that must be done collectively. It's our collective responsibility because our corporate existence is being threatened and people are now trying to take our land".
"For us as a State, our security network and our program are clear. We have domesticated security at the community level and as a result of that, all our vigilante and private security outfits are part of our security architecture".
"We cannot do it in isolation and that's why as a Government, we decided that we have to incorporate the vigilante and other security groups into the security architecture for monitoring and profiling of all security networks".
The Deputy Governor revealed that personnel of the security outfit will be trained to become professionals at what they do and fit into the core security architecture of the State.
"In our bid to ensure professionalism, we will train you; we have been able to fix the Ogida Police barracks for this purpose".
"We will also have senatorial training as we can't move you all to Ogida barracks. By January 2023, we will have all the coordinators of the security outfits trained, including all of you because we will be profiling anyone that would be enlisted by the state security service and police to avoid some that may want to use it for criminality".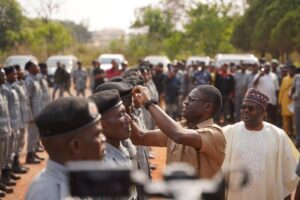 "We will not allow too many groups to spring up because it will create more security challenges and that's why we will not allow them existence. We must all come under one umbrella. Any group that calls themselves security group must come under the amalgamated".
"Our farmers are gradually going back to the farms now because of the new face of our security architecture. However, I must say that we are not there yet, we need you to be awake until everywhere is secured".
Shaibu also promised that Government will look into the request to have stipends paid to the officers while advising that they shouldn't let money be the driving force. Rather the reason to protect their land and people should be their priority.
He told the security outfit that 10 sienna vehicles donated by the Afenmai World Congress and supported by the State Government will be delivered to the outfit soonest.
Photos: Egbobawaye Imuegbe