…watches Hafiz recites the Qur'an in amazement
Edo State Deputy Governor, Rt. Hon. Comrade Philip Shaibu, Tuesday, paid a courtesy visit to the palace of the Otaru of Auchi in honour of 9-year-old Prince Aliru Hafiz, son of the Otaru of Auchi, Ikelebe III, His Royal Majesty, Alhaji Momoh Aliru, for his feat in memorizing the complete Sixty Hifz (chapters) of the Holy Qur'an.
Shaibu expressed delight over the feat the young Prince Aliru Hafiz has attained in the holy books.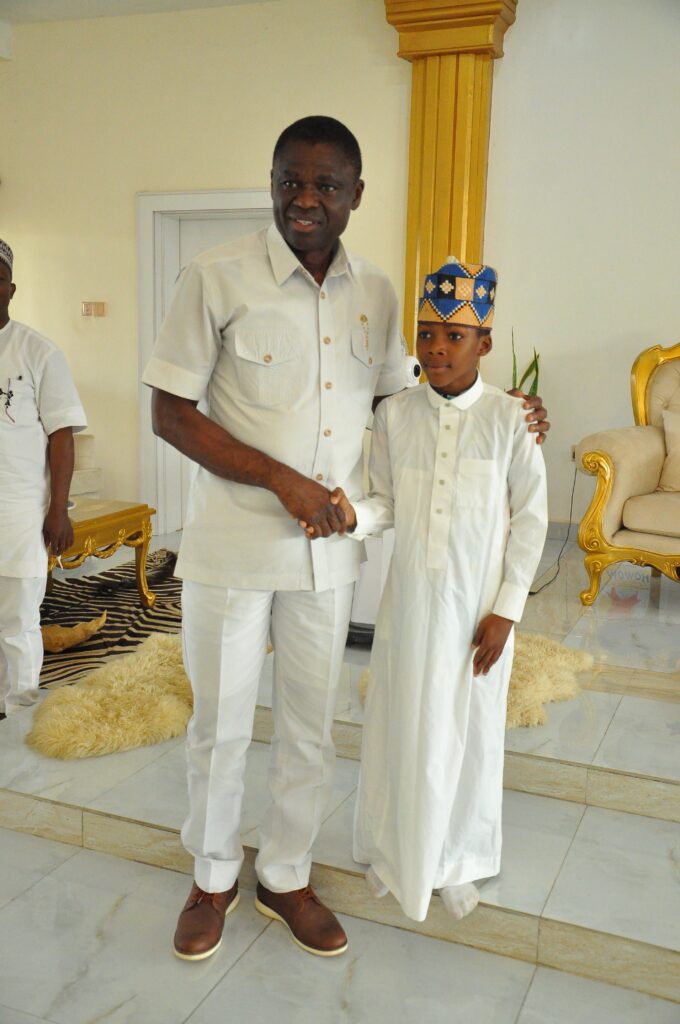 According to him, when family values are inculcated in our young children, they never depart from them.
"These are family values and virtues translated into his upbringing. He is an exemplary role model to his peers. His parents played a major role in his upbringing. He is supposed to be an award winner for this spectacular achievement".
"I came to honour the young Prince Hafiz Aliru with my presence after I was told that he could recite the complete Qur'an", Shaibu added
According to Hafiz's father and the Otaru of Auchi Sacred Kingdom, Prince Hafiz Mumin Aliru Momoh started memorizing the Qur'an at the tender age of three, while attributing the success to his upbringing and commitment to his school teachers.
According to the Otaru, "teaching children the glorious Qur'an and the Islamic principles are the responsibilities of their parents from an early age, which is the best period for implanting Islamic ethics".
"Memorizing the Holy Qur'an is one of the most important ways to preserve Allah's message, Otaru added."