After several postponements, the Edo State Football Association has officially announced the date for its elective Congress.

The decision was made during a board meeting held this week, setting the stage for the important election in the state's football landscape.

In a statement issued by the Edo State Football Association's secretary, Tony Owens Uhwen, it was revealed that all candidates vying for the position of Chairman were cleared by the electoral committee. The sole exception was Mr. Julius Efosa Aghohowa, who did not participate in the screening exercise. However, all candidates for membership positions received clearance to contest.

In the race for the Chairmanship position, the contenders include Fred Newton Erhunmwunse, Engr. Emmanuel Edekin Imiere, Johnbull Edosomwan, Egbon Victor, and Benjamin Owerei. The position of Vice Chairman will see only one candidate, Kindness Ohiowele, a current board member of the FA, running uncontested.


Also, seven candidates were screened to contest for membership positions, consisting of three current board members: Amadin Stephen, Charles Olubayo, and Faith Ojeaga. The other candidates are Mike Uhuanmwangho, Mikhail Osakpomwan Igbinovia, Kennedy Ugbodaga, and former board member Paul Ojeisekhoba.

The fate of the Edo State Football Association's Board will be decided by delegates elected from the 18 Local Councils FA and statutory delegates representing various football bodies such as the Referee Association (Edo Referee Council), Nigeria Coaches Association (Edo State Chapter), Premier League representative (Bendel Insurance FC), Nigeria Women Football League (Edo Queens FC), Nigeria Women Amateur League (Fortress Ladies FC), Nation-wide League NLO (Rolly FC), and State League (BJ Foundation FC).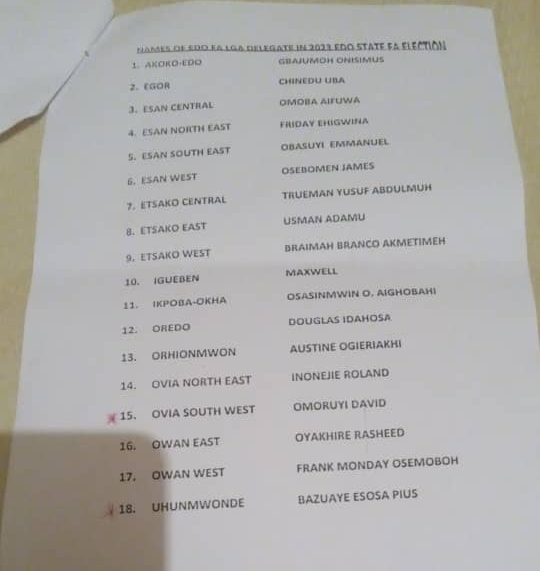 The current Board of the Edo State Football Association, led by Dr. Aghedo Moses, has a deadline of October 15th, 2023, to conclude all election matters and facilitate the smooth transition to the new Board. Dr. Aghedo expressed his satisfaction with the ongoing process and pledged a level playing ground for all candidates. He called on contestants to cooperate with the Electoral and Appeal committees to ensure a successful and trouble-free exercise.

The Edo State Football Association election is now scheduled for Wednesday, October 4th, 2023 at the Airforce Base, located by Ihama junction along Airport Road, Benin City, with proceedings set to commence at 9 am.