Unbeaten Bendel Insurance is through to the Federation Cup final in breathtaking fashion after beating Warri Wolves 3-2 on penalties after a goalless draw at regulation time in Lagos.


In a stunning display of resilience and skill, the unbeaten Bendel Insurance, known for their exceptional performance throughout the season, secured their place in the final of the highly anticipated Federation Cup.

The dramatic climax of the match came down to the heroic actions of Benin Arsenal's exceptional goalkeeper, Amas Obasogie who saved the last spot kick with astounding precision, sending waves of jubilation through the Mobolaji Johnson Arena in Lagos State.


Facing Warri Wolves in the semifinal; a Bendel derby, tensions were high as both teams battled tirelessly for the coveted ticket to the final. The game was a fiercely contested affair, characterized by strategic manoeuvres, breathtaking saves, and moments of brilliance. Each team displayed unwavering determination, leaving spectators on the edge of their seats until the very last moments of the match.

With the scoreline deadlocked after regulation time, the match had to be decided by a nerve-wracking penalty shootout. As the tension mounted, fans from both sides held their breath, knowing that a single mistake or a remarkable save could make all the difference.


Shadrach Okere of Warri Wolves missed the first spot kick of the day as his shot went wide. Step by step, the spot kicks unfolded, with Bendel Insurance showcasing their composure and execution under immense pressure. Warri Wolves suffered a huge blow when Olisema Ekene's spot kick hit the woodwork. With that, the atmosphere became electric, with the roars of the Bendel Insurance supporters reverberating throughout the stadium.


However, there was a delay in celebration for the Benin Arsenal as Tanimu Benjamin's penalty kick was off target. The shootout was wrapped with the next spot kick as Amas Obasogie who had been impeccable throughout the game, stepped up to become the hero of the hour.


With unwavering focus, Amas anticipated the Joke Elvis' move, diving with lightning-fast reflexes to make an astonishing save making the stadium erupt into deafening celebrations from the players, coaching staff and fans of Bendel Insurance.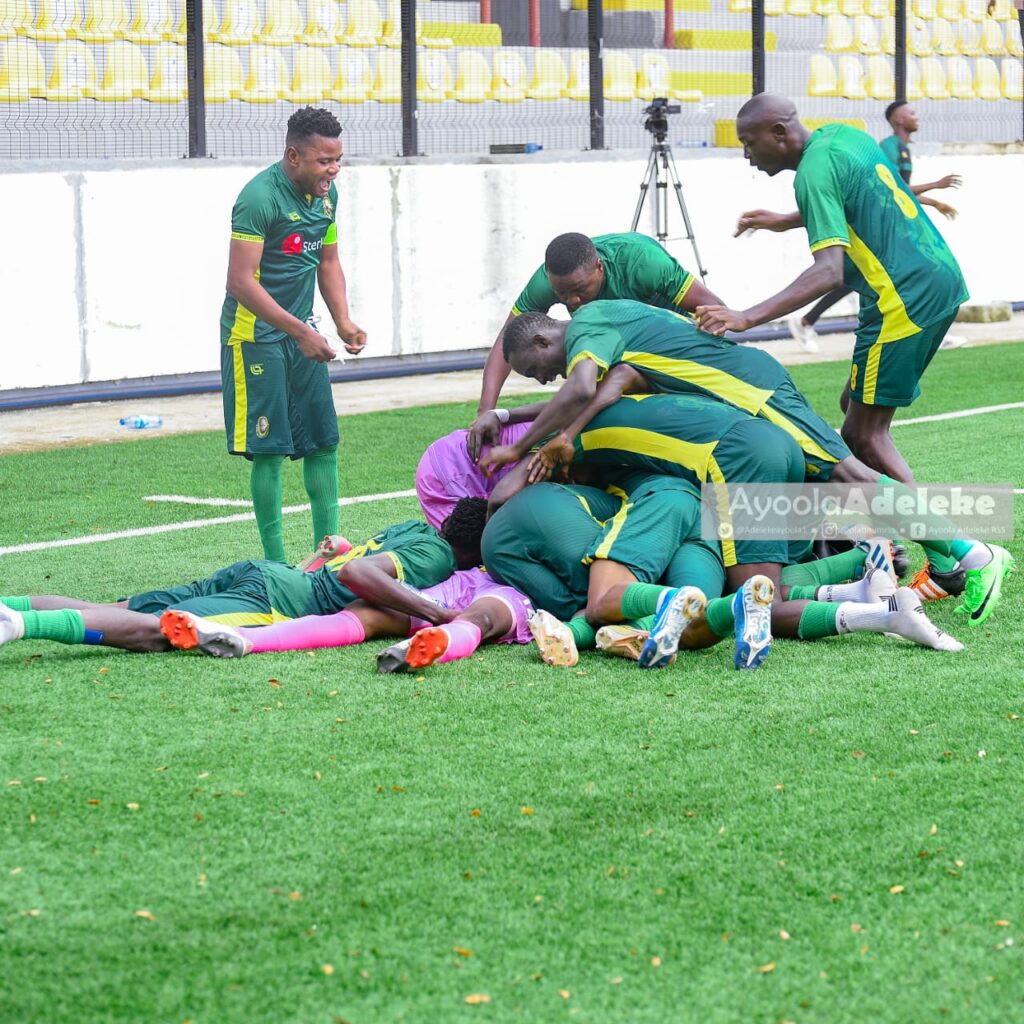 The goalkeeper's heroic act secured a 3-2 victory in the penalty shootout, clinching Insurance place in the highly anticipated cup final.

Bendel Insurance's remarkable unbeaten run throughout the season and their spectacular journey in the Federation Cup have ignited the hopes and dreams of their passionate fan base in Benin. As they advance to the final, the Benin Arsenal are now on the brink of etching their names in history as champions, and the football world eagerly awaits the grand showdown that awaits them.

Bendel Insurance will now face Enugu Rangers in the final who defeated Plateau United 1-0 in the other Semi-Final fixture.