The excitement was palpable as the much-awaited opening day of the Platinum Cup pre-season scouting tournament finally arrived. Supporters and players alike had been eagerly anticipating this moment for weeks, with high hopes and expectations for what promised to be an exhilarating display of talent, teamwork, and sheer determination.


From the moment the first whistle blew, the University of Benin Sports Complex was alive with the sound of cheers, chants, and roars of encouragement, as the teams took to the field, ready to give it their all and make their mark in this historic event as 12 goals and four clean sheets were recorded.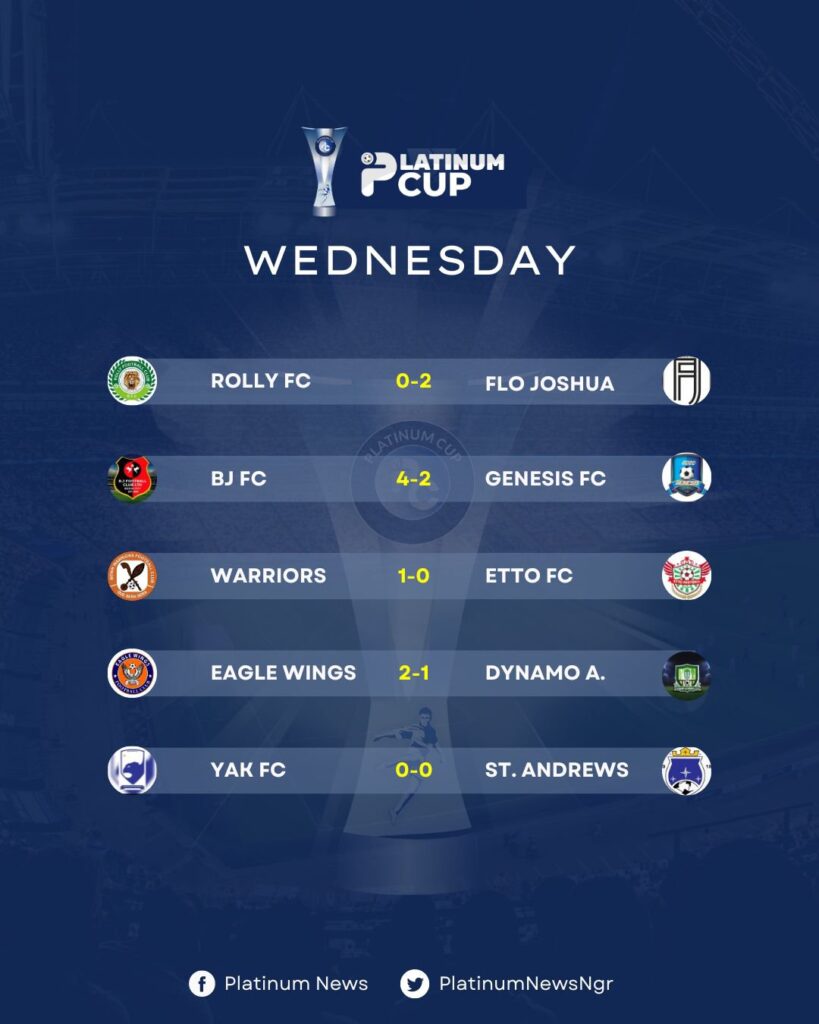 Rolly 0-2 Florence Joshua

⚽Brown Abayomi 19′ (P), Akinjo Emmanuel 42′

The opening match of the tournament ended in a shock defeat for tournament favourites as Florence Joshua showed no mercy on the Nigeria National League One Team, Rolly FC.

Florence Joshua's captain, Brown Abayomi opened the scoring by converting from the spot after Emmanuel Okoye was fouled. Akinjo Emmanuel doubled for Florence Joshua in minute 42 with a header from Akinjo Emmanuel. Efforts to get back in the game proved abortive.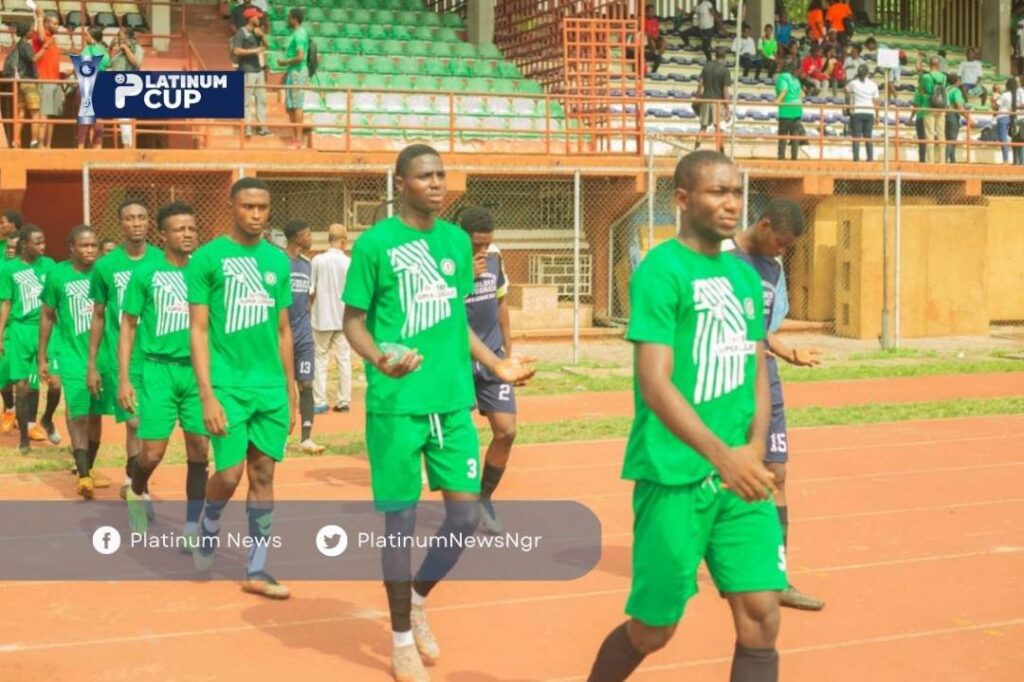 BJ FC 4-2 Genesis FC

⚽ Uche Epete 14′, Tochukwu Akaolisa 20′, Purpose Ayemogie 33′ 45′ – Destiny Osaku 35′, Eguabor David 77′

In a six-goal thriller, BJ FC ended up as the winner over Genesis FC. Uche Epete started the party for BJ FC and it got more interesting six minutes after the first with Tochukwu Akaolisa doubling the lead. An opportunity to half the deficit was thrown away as Iboi Kenneth's penalty was saved by BJ FC goalie, Adebayor Samson.

Purpose Ayemogie made it three for BJ FC in an enthralling encounter. To make things harder for the 'Cele Boys', Purpose Ayemogie netted the fourth goal for BJ FC. Destiny Osaku gave his side a lifeline after stealing the ball from BJ FC goalie, Adebayor Samson. Eguabor David halved the deficit as he calmly finished off his opportunity.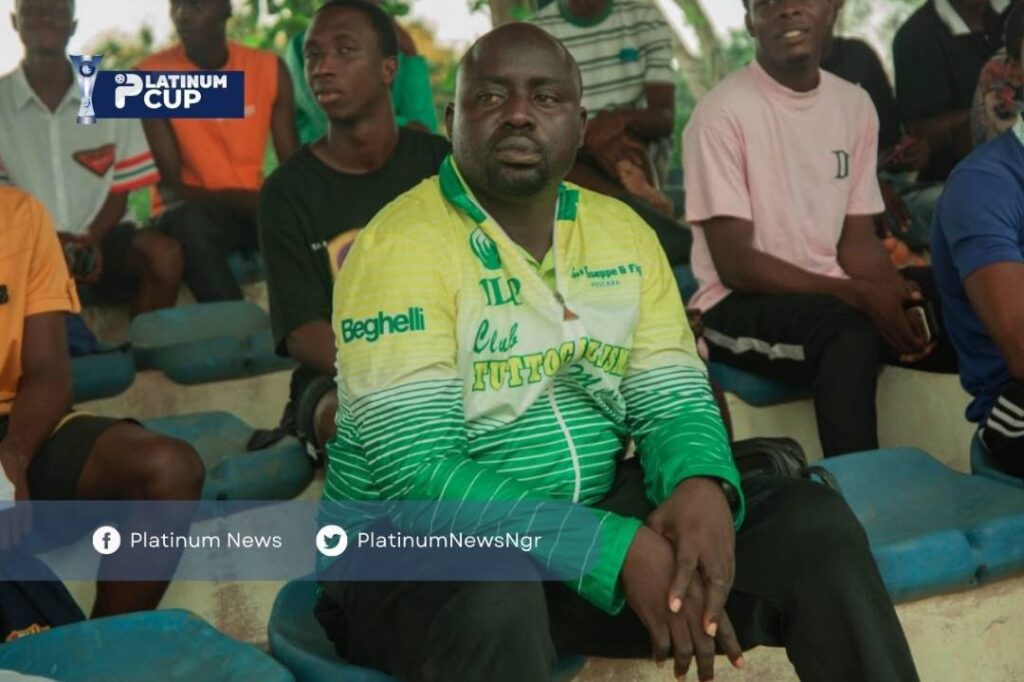 Benin Warriors 1-0 Etto FC

⚽ Gideon Okhomina 61′

A fascinating game with two equal sides seemed to be heading for a draw until Gideon Okhomina struck from the edge of the box in what will be deemed as a contender for the goal of the tournament. Excited Coach Nelson could not hide his joy in the game with his side grabbing three points to put the 'Omo Boys' on top of group B.


Eagle Wings 2-1 Dynamo Academica

⚽ Ugiagbe Aisosa 47′, Henry Osaretin 49′ – Emmanuel Obinna 57′

Halftime was goalless, the second half was thrilling with three goals scored but Eagle Wings was the better side. Ugiagbe Aisosa left footed shot started the party. Two minutes later, Henry Osaretin's header doubled for Eagle Wings in the keenly contested encounter. Dynamo Academica however pulled one back courtesy of Emmanuel Obinna in the 57th minute. Efforts to score more goals proved abortive in the fixture.

Yak 0-0 St. Andrews

The last fixture of the day ended in a goalless draw between Yak and St Andrews with both sharing the spoils in a fierce battle. No Victor, No Vanquished.