Edo State is currently immersed in a brewing controversy surrounding the Edo State Speaker's Cup, as conflicting parties allegedly attempt to solicit entries for organizing the prestigious football tournament, platinumnewsng.com is reporting.

The legal and recognized organizers of the tournament, the Youths Sports Federation of Nigeria (YSFON) have raised concerns, seeking clarification on the matter.

In a Disclaimer letter dated November 9, 2023, addressed to the Speaker of the Edo State House of Assembly, RT. Honourable Blessing Agbebaku, YSFON expressed their apprehensions and reminded the speaker of the established history of the Speakers Cup.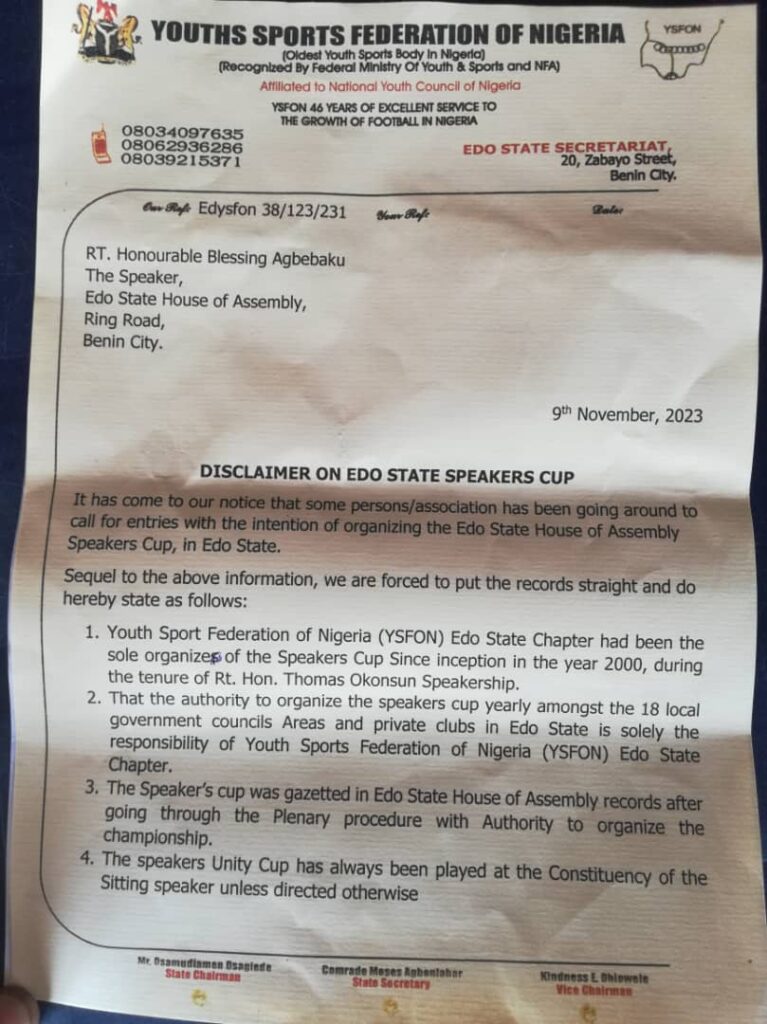 Signed by Osamudiamen Osaglede, the chairman YSFON (Edo Chapter) and Harrison Iyonmana, the General Secretary, the letter emphasized that YSFON has been the sole organizer of the tournament since its inception in 2000 during the tenure of Rt. Hon. Thomas Okonsun, a fact documented in the Edo State House of Assembly records.

The communication further outlined that the tournament traditionally involves teams from all 18 local governments in Edo State and is typically hosted in the constituency of the speaker unless other directives are provided.


YSFON appealed to the speaker, whom they recognize as a dedicated supporter of sports and YSFON, to intervene and ensure that all stakeholders, clubs, and authorities of the Edo State House of Assembly are not misled by impostors attempting to take charge of the organization.

Outside this, it's becoming an abnormal norm in the state that a series of programs are being organized without the involvement of the core stakeholders of such events, thus, this step was taken by YSFON to avoid this coming into their territory.