What happens when football collaborates with a party? Everywhere bangs. That Is exactly how the ZEbet and YOLO party was. It was a goal. The euphoria, the thrilling moment, the intense argument, and the endless music to vibe to. The fusion was electric. The last edition of the YOLO Party which was held on the 5th of November 2023 attracted over 5,000 attendees. The event featured amazing fun activities like speed dating, dancing, interactive games, giveaways, hypemen, d-jays, and music performances from Ajebo Hustlers, etc.
In case you missed the event, this article is a breakdown of what you must have missed and why you should miss the next edition.
ZEbet Takes Center Stage as Premier Sponsor of YOLOPARTY
In a momentous collaboration, ZEbet proudly took the spotlight as one of the primary sponsors of the YOLOPARTY solidifying its commitment to delivering unparalleled entertainment. As a major sponsor, ZEbet played a pivotal role in shaping the event's success, contributing immensely to the team.
ZEbet's sponsorship went beyond mere branding; it became an integral part of the event's fabric, enhancing the overall experience for attendees. The partnership showcased ZEbet's dedication to creating unique and engaging moments for its community, aligning its brand with the vibrant energy of several entertainment enthusiasts. ZEbet's prominent role as a major sponsor underscored its position as a key player in shaping cultural experiences, leaving an indelible mark on the betting industry and cementing its status as a leader in the realm of sports betting entertainment.

ZEbet X YOLOPARTY – Elevating Entertainment Amongst Sports Enthusiast
ZEbet and YOLOPARTY have successfully merged the realms of sports betting and musical ecstasy, offering residents an unparalleled fusion experience. This dynamic partnership, which culminated in an event on November 5th, has left attendees buzzing with excitement.
Over time, ZEbet, a premier sports betting platform, has consistently pushed the boundaries of entertainment through sports. However, its collaboration with YOLOPARTY, curated unforgettable experiences for football lovers in the city of Abuja. The two entities have created an atmosphere where the thrill of sports betting seamlessly intertwines with the pulsating beats of a musical extravaganza.
The event featured live betting stations, providing attendees the opportunity to engage in the excitement of sports betting while immersed in the electrifying beats delivered by top-notch DJs and performers. This unique blend of betting anticipation and musical euphoria resulted in a night that transcended the ordinary, offering a diverse and thrilling experience for all in attendance.
ZEbet's Resounding Success: Gaining Exposure to 5000 New Sports Lovers
At the YOLOPARTY Fusion Extravaganza, ZEbet achieved a resounding success by gaining access to a thriving audience of 5000 new enthusiasts. The event became a strategic platform for ZEbet to showcase its innovative sports betting offerings to a diverse and engaged audience, expanding its reach significantly.
The events provided ZEbet with a unique avenue to connect with potential users in a lively and celebratory atmosphere. Through live betting stations, exclusive promotions, and immersive experiences, ZEbet successfully captivated the attention of attendees, turning them into curious explorers of the platform.
This increased exposure translates into more people becoming familiar with ZEbet's betting platform, elevating brand awareness and fostering a growing community of users. The event acted as a dynamic gateway for ZEbet to introduce its services to a wide audience, making the brand a memorable presence in the minds of 5000 new individuals. As these attendees share their experiences, ZEbet's influence extends further, ensuring that more people are now privy to the excitement and rewards offered by the innovative sports betting platform.

An Easy Avenue for Building Community Connections for Sport Lovers
Beyond individual experiences, ZEbet and YOLOPARTY are committed to fostering a sense of community. The fusion event brought people together, creating shared moments of joy and excitement. Attendees connected over their favorite teams, celebrated wins together, and danced to the rhythm of the night, making it an event where memories were made and new connections formed.
This event emerges as a powerful catalyst for community building, providing an effortless avenue to connect with a broader audience. As a dynamic fusion of sports betting and musical extravaganza, YOLOPARTY opens up an easy avenue for ZEbet to reach a wider audience. Attendees, drawn by the allure of both sports and music, converge in a shared space, creating an atmosphere ripe for community connections. ZEbet leverages this opportunity to engage with participants on a personal level, fostering a sense of camaraderie and shared excitement.
Moreover, the event acts as a bridge between seasoned bettors and newcomers, breaking down barriers and welcoming individuals into sports betting in a festive and inclusive environment. YOLOPARTY becomes a vibrant canvas where ZEbet paints a picture of not just odds and bets but of a community united by common interests and the thrill of collective experiences.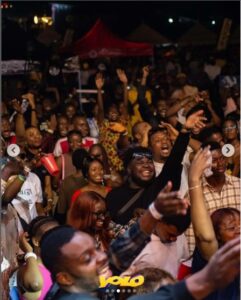 Cash Prizes and Gifts Sharing For Attendees
What is a ZEbet event without bonuses on odds, winnings on stake or other cash prizes. ZEbet has always generously given gifts, both cash and free bets to their loyal customers. Attendees were treated to an array of exciting rewards and incentives, enhancing the overall experience.
The festivities were not just about music and sports; they were a celebration of generosity. Cashback offers sweetened the deal, providing participants with a safety net for their bets. Gift prizes added an element of surprise and delight, creating moments of jubilation as lucky winners walked away with exciting rewards.
Additionally, the allure of free bets added a thrilling dimension to the event, allowing attendees to explore the world of sports betting without financial risk. These incentives not only elevated the enjoyment of the YOLOPARTY but also exemplified ZEbet's commitment to giving back to its community. Thus, it was a memorable occasion filled with excitement and unexpected rewards.
Conclusion
As the echoes of the event linger, ZEbet and YOLOPARTY extend their gratitude to everyone who made the night a success. The November 5th fusion experience showcased the potential for future collaborations that redefine entertainment across sports and music. The event was a celebration of vibrancy and diversity that different individuals share for sports and music.