As every well-meaning Nigerian and people across the World celebrated friends and family with gift items for the festive period, the class of 2007 of the Old Students Association of the Tomia Community Secondary School, Alagbado, Lagos State were not left out as they donated some materials worth 250,000 naira to their Alma Mater as 2022 climaxed.


The set of students who were in various departments in their school days made this gesture after months of deliberation and raising funds to carry out the project.


The projects carried out include the donation of a Bluetooth/Wifi compatible sound system, installation and erection of a new flag stand with a newly designed flag, and a token to the Principal of the school, Mr Apoeso Olasupo Ebenezer.


The presentation of the items was carried out by the president of the 2007 set of Old Students Association, Ogundele Adewale Akeem as represented by the Welfare Officer, Mr. Majekodunmi Muyiwa and the Public Relation Officer, Mr. Musa Omeiza.
The presentation which was done on the 23rd of November, 2022 saw the Principal, Mr Apoeso Olasupo who was absent due to an official assignment, but had the school secretary present, thanked the Old Students for looking back to sow good seeds in the school they all passed through.


According to the President of the Association, the set is happy to have contributed to the school's development and this to him is just the beginning of greater things to come.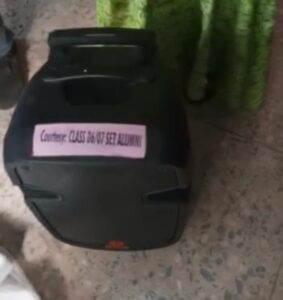 " We all understand the importance of doing something like this to our school, no matter how little it is and we are glad that we could achieve it – contributing our quota to the school."
" This is not going to be the end of this set, we will do bigger things in 2023, God willing and it will be more human development projects."


The secretary of the Association, Mrs Aminu Olabisi (Nee Sonde) who newly delivered a baby added her voice from the maternity ward saying this wouldn't have been possible without the support of the wonderful members.


" I'm very glad I participated in something like this, it had always been my prayer that I should be able to give back to my community one day in any form and I thank God it happened."
"This idea was birthed and supported by the wonderful members of the association and they contributed their quota to make sure we accomplish this. We look forward to doing better next time."