The Edo State Government has issued a rallying call to all Civil/Public Servants, mandating them to be present at the Samuel Ogbemudia Stadium when Bendel Insurance FC takes on Algeria's ASO Chlef FC in the CAF Confederation Cup.

In a circular letter emanating from the Office of the Head of Service, civil servants have been ordered to gather at the Samuel Ogbemudia Stadium in Benin City on Saturday, the 19th of August, 2023.

The circular letter, bearing reference number HOS 35/VOLIVAB63 and dated the 17th of August, 2023, carries a directive that leaves no room for ambiguity.

All civil and public servants in the employment of the Edo State Government are mandated to be present at the stadium well in advance, with a scheduled gathering time of 2:00 pm on the day of the tournament for the match, which kicks off at 4:00 pm.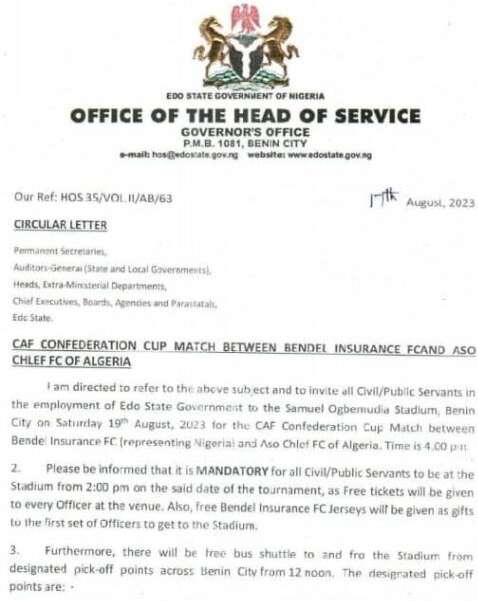 Notably, the Edo State Government has gone the extra mile to ensure that this sporting extravaganza is accessible to all its dedicated servants. Free tickets will be distributed to each officer at the venue, granting them entry to the showdown. To further fuel the spirit of camaraderie and fan engagement, complimentary Bendel Insurance FC Jerseys will be given to the first batch of officers to arrive at the stadium.

As reported first by Ayoola Adeleke on X (formerly known as Twitter), the government has orchestrated a seamless transportation solution to facilitate hassle-free attendance. A fleet of free bus shuttles will be available, ensuring convenient travel to and from the stadium. The designated pick-off points, strategically located across Benin City, will commence shuttle service from noon, allowing supporters ample time to arrive at the stadium.